Joseph F. Kovaleski

Joseph F. Kovaleski, DEd, NCSP, is Professor Emeritus of Educational and School Psychology at Indiana University of Pennsylvania, where he was Director of the Doctoral Program in School Psychology from 2003 to 2017. He now consults with school districts and state departments of education. Dr. Kovaleski directed Pennsylvania's Instructional Support Team Project and served as a university consultant for Pennsylvania's Multi-Tiered System of Support Initiative. He has published numerous articles and book chapters on response to intervention and data-based decision making, and presents frequently at national and state conferences. He is coauthor (with Jason A. Pedersen) of a chapter on data-analysis teaming in Best Practices in School Psychology, Sixth Edition.


---
All titles by Joseph F. Kovaleski: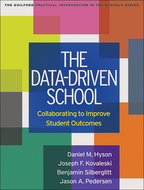 The Data-Driven School: Collaborating to Improve Student Outcomes

Daniel M. Hyson, Joseph F. Kovaleski, Benjamin Silberglitt, and Jason A. Pedersen
Paperback
July 10, 2020
$35.00
$26.25
e-Book
July 6, 2020
$35.00
$26.25
Print + e-Book
Save 45%!
$70.00
$38.50