Louis G. Castonguay

Louis G. Castonguay, PhD, is Liberal Arts Professor of Psychology at The Pennsylvania State University. With more than 200 publications, Dr. Castonguay focuses his research on different aspects of therapeutic change and training (including variables related to interventions, relationship, client, and therapist), especially in the context of psychotherapy integration. He is also involved in practice-oriented research and the development of practice research networks aimed at facilitating collaboration between clinicians and researchers. In addition, he has been investigating the process and efficacy of new integrative treatments for generalized anxiety disorder and depression. Dr. Castonguay is a recipient of the Distinguished Psychology Award from Division 29 (Society for the Advancement of Psychotherapy) of the American Psychological Association and the Distinguished Career Award from the Society for Psychotherapy Research (SPR). He has served as president of SPR and of the North American chapter of SPR.


---
All titles by Louis G. Castonguay: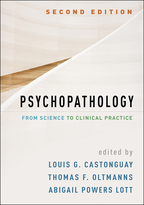 Psychopathology: Second Edition: From Science to Clinical Practice

Edited by Louis G. Castonguay, Thomas F. Oltmanns, and Abigail Powers Lott
Hardcover
July 30, 2021
$65.00
$48.75
e-Book
May 7, 2021
$65.00
$48.75
Print + e-Book
Save 45%!
$130.00
$71.50