Mark W. Steege

Mark W. Steege, PhD, NCSP, BCBA-D, is Professor of Educational and School Psychology at the University of Southern Maine. He has written numerous research articles, book chapters, and books on functional behavioral assessment and response to intervention. His primary research interests are the application of applied behavior analysis in the assessment and treatment of interfering behaviors with persons with developmental disabilities. Dr. Steege has served on the editorial boards of the Journal of Applied Behavior Analysis, School Psychology Review, and Journal of Evidence-Based Practices for Schools.

---
All titles by Mark W. Steege: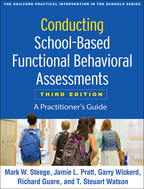 Conducting School-Based Functional Behavioral Assessments: Third Edition: A Practitioner's Guide

Mark W. Steege, Jamie L. Pratt, Garry Wickerd, Richard Guare, and T. Steuart Watson
Foreword by Frank M. Gresham
Paperback
February 26, 2019
$40.00
$34.00
e-Book
January 17, 2019
$40.00
$34.00
Print + e-Book
Save 45%!
$80.00
$44.00