Miriam H. Beauchamp

Miriam H. Beauchamp, PhD, is Professor in the Department of Psychology at the University of Montréal, Québec, Canada, and Researcher at the Sainte-Justine Hospital Research Centre, where she leads the ABCs Developmental Neuropsychology Laboratory. Dr. Beauchamp holds the Canada Research Chair in Pediatric Traumatic Brain Injury. She has received early career awards from the International Neuropsychological Society and the International Brain Injury Association, held the inaugural Québec–Bruxelles Chair at the Royal Academy of Sciences in Belgium, and was inducted to the College of New Scholars, Artists, and Scientists of the Royal Society of Canada. In 2017, she was recognized as Quebec's most promising early-career researcher. Her research interests include pediatric traumatic brain injury and social neuroscience.She is registered with the Québec Psychology Board and certified in neuropsychological assessment.


---
All titles by Miriam H. Beauchamp: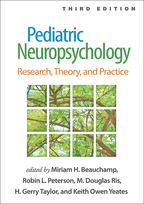 Pediatric Neuropsychology: Third Edition: Research, Theory, and Practice

Edited by Miriam H. Beauchamp, Robin L. Peterson, M. Douglas Ris, H. Gerry Taylor, and Keith Owen Yeates
Hardcover
July 11, 2022
$95.00
e-Book
April 21, 2022
$95.00
Print +

e-Book


Save 45%!
$190.00
$104.50