Patricia A. Resick

Patricia A. Resick, PhD, ABPP, is Professor of Psychiatry and Behavioral Sciences at Duke University Medical School. Dr. Resick began developing and testing cognitive processing therapy (CPT) in 1988 at the University of Missouri–St. Louis, where she founded the Center for Trauma Recovery and was an Endowed Professor. CPT is considered a first-line therapy for posttraumatic stress disorder in the United States and several other countries; the CPT treatment manual has been translated into 12 languages. Dr. Resick has served as president of the International Society for Traumatic Stress Studies (ISTSS) and the Association for Behavioral and Cognitive Therapies (ABCT). She is a recipient of Lifetime Achievement awards from ISTSS, ABCT, and Division 56 (Trauma Psychology) of the American Psychological Association, among other honors.

---
Read a Q & A
with featured author, Patricia A. Resick!
---
All titles by Patricia A. Resick: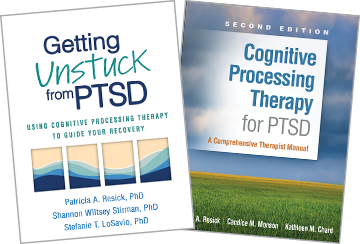 Order both items for $55.95, instead of $73.95 if bought separately!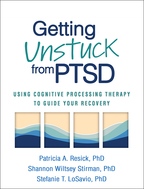 Getting Unstuck from PTSD: Using Cognitive Processing Therapy to Guide Your Recovery

Patricia A. Resick, Shannon Wiltsey Stirman, and Stefanie T. LoSavio