Getting Unstuck from PTSD
Using Cognitive Processing Therapy to Guide Your Recovery
Hardcover
Paperback
e-book
print + e-book
Hardcover
March 23, 2023
ISBN 9781462551460
Price: $65.00
308 Pages
Size: 8" x 10½"
pre-order
Paperback
March 23, 2023
ISBN 9781462549832
Price: $24.95
308 Pages
Size: 8" x 10½"
pre-order
Check out a special package offer including this title!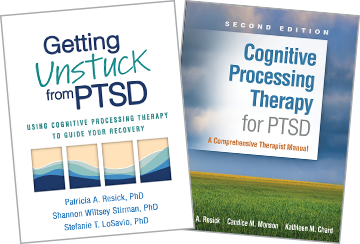 ---
A

nyone who is struggling to recover from trauma can now receive one of the gold-standard treatments for PTSD

. This is the first self-help workbook based on cognitive processing therapy (CPT). Leading authorities—including the originator of CPT—have created a complete program featuring step-by-step exercises, downloadable practical tools, and empathic stories of men and women working toward recovery. CPT helps PTSD sufferers systematically reexamine unhelpful thoughts about traumatic experiences, so that the memories become less painful and overwhelming. It helps people navigate the impact of trauma in relationships and restore a sense of safety and trust. Readers learn how to get unstuck from what happened in the past—so they can build the life they want now.

Mental health professionals: see also the authoritative CPT treatment manual for clinicians,

Cognitive Processing Therapy for PTSD

, by Patricia A. Resick, Candice M. Monson, and Kathleen M. Chard.