Paul A. M. Van Lange

Paul A. M. Van Lange, PhD, is Professor and Chair of Social Psychology at VU University Amsterdam, The Netherlands, and Distinguished Research Fellow at the University of Oxford, United Kingdom. His research focuses on human cooperation and trust. Dr. Van Lange has published over 200 articles in psychological and interdisciplinary journals. He is founding editor of Current Opinion in Psychology and Current Research in Ecological and Social Psychology, and is a past president of the Society of Experimental Social Psychology. His work has been recognized by the Kurt Lewin Medal from the European Association of Social Psychology, among other grants and awards. His website is www.paulvanlange.com.

---
All titles by Paul A. M. Van Lange: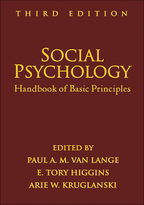 Social Psychology: Third Edition: Handbook of Basic Principles

Edited by Paul A. M. Van Lange, E. Tory Higgins, and Arie W. Kruglanski
Hardcover
November 3, 2020
$125.00
$93.75
e-Book
October 20, 2020
$125.00
$93.75
Print + e-Book
Save 45%!
$250.00
$137.50