Sylvie Naar

Sylvie Naar, PhD, is Professor and Director of the Division of Behavioral Sciences in the Department of Family Medicine and Public Health Sciences at Wayne State University. She conducts research on the use of MI and MI integrated with CBT to improve health behaviors for many populations. She also studies how best to teach MI and how to implement the approach within organizations. With over 100 publications, Dr. Naar is coauthor of Motivational Interviewing with Adolescents and Young Adults. She is a member of the Motivational Interviewing Network of Trainers (MINT) and has provided training locally, nationally, and internationally.

---
All titles by Sylvie Naar: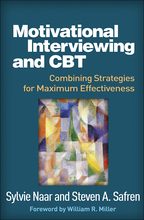 Motivational Interviewing and CBT: Combining Strategies for Maximum Effectiveness

Sylvie Naar and Steven A. Safren
Foreword by William R. Miller
Hardcover
August 23, 2017
$35.00
$29.75
e-Book
July 12, 2017
$35.00
$29.75
Print + e-Book
Save 45%!
$70.00
$38.50