New edition!
The Groundbreaking Clinical Guide and Text
More than 450,000 in print!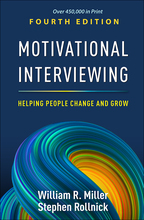 Create flyer
Motivational Interviewing
Fourth Edition
Helping People Change and Grow
Hardcover
e-book
print + e-book
Hardcover
August 21, 2023
ISBN 9781462552795
Price: $65.00
338 Pages
Size: 6" x 9"
order
e-book
July 24, 2023
Price: $65.00
338 Pages
order
print + e-book
Price: $130.00 $78.00
338 Pages
order
---
---
Read a Q&A
with featured author, Stephen Rollnick!
---
Sign up for
emails
on upcoming titles on Motivational Approaches (with special discounts)!
---
N

ow in a fully rewritten fourth edition, this is the authoritative presentation of motivational interviewing (MI), the powerful approach to facilitating change.

It has been updated and streamlined to be even more user-friendly as a practitioner guide and course text. MI originators William R. Miller and Stephen Rollnick elucidate the four tasks of MI—engaging, focusing, evoking, and planning—and vividly demonstrate what they look like in action. A wealth of vignettes and interview examples illustrate the dos and don'ts of successful implementation in diverse contexts. The book reviews the evidence base for the approach and covers ways to assess the quality of MI. The

companion website

provides reflection questions, annotated case material, and additional helpful resources.

New to This Edition
Most of the book is entirely new.
Addresses the breadth of MI applications not only in counseling and psychotherapy, but also in health care, education, coaching, management, and other contexts.
Discusses delivering MI remotely, simple versus complex affirmations, strategic use of directional questions, ethical considerations, and other new or expanded topics.
Increased emphasis on using MI throughout a client's process of change and growth, not just in the preparatory stage.
Pedagogical Features
New or updated online materials, including reflection questions and annotated cases.
Key points at the end of each chapter.
"Personal Perspective" and "For Therapists" boxes in every chapter.
Extensive glossary.
New self-assessment tool that targets the component skills of MI.
This title is part of the Applications of Motivational Interviewing Series, edited by Stephen Rollnick, William R. Miller, and Theresa B. Moyers.
Note: A related 2-DVD set illustrating MI in action is available from The Change Companies.