More than 40,000 in print!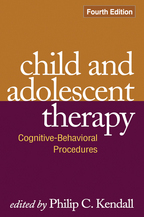 Create flyer
Child and Adolescent Therapy
Fourth Edition
Cognitive-Behavioral Procedures
Hardcover
e-book
print + e-book
Hardcover
August 1, 2011
ISBN 9781606235614
Price: $80.00
538 Pages
Size: 7" x 10"
order
---
Philip C. Kendall
, PhD, ABPP, is Distinguished University Professor and Carnell Professor of Psychology at Temple University, where he is also Director of the Child and Adolescent Anxiety Disorders Clinic. Dr. Kendall has been a researcher, scholar, and clinician since the 1970s. He has made seminal contributions to the treatment of anxiety disorders in youth; cognitive-behavioral theory, assessment, and treatment; research methodology; and the conceptualization and understanding of the psychopathology and treatment of children and adolescents. With more than 650 research publications and books, Dr. Kendall has been a Fellow at the Center for Advanced Study in the Behavioral Sciences and has received numerous awards, including the Aaron T. Beck Award for Significant and Enduring Contributions to Cognitive Therapy from the Academy of Cognitive and Behavioral Therapies, the Distinguished Scientist Award from the Society for a Science of Clinical Psychology, Distinguished Career Research Awards from the Society of Clinical Child and Adolescent Psychology (Division 53) and the Society of Clinical Psychology (Division 12) of the American Psychological Association, and the inaugural Research Recognition Award from the Anxiety and Depression Association of America.