More than 40,000 in print!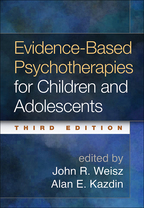 Create flyer
Evidence-Based Psychotherapies for Children and Adolescents
Third Edition
Hardcover
e-book
print + e-book
Hardcover
June 13, 2017
ISBN 9781462522699
Price: $85.00
622 Pages
Size: 7" x 10"
order
---
New to this edition:
Existing chapters significantly revised with the latest treatment research.
Chapters on assessment, personalizing evidence-based therapies, clinical implications of developmental psychopathology, and advances in neuroscience.
Coverage of additional clinical problems (self-injury and suicidal ideation, bulimia nervosa, encopresis) and treatments (Early Start Denver Model for autism spectrum disorder, Internet-assisted and technology-enhanced interventions).
Chapters on implementation in complex mental health systems, as well as international models.