Bestselling Clinical Guide and Text
More than 115,000 in print!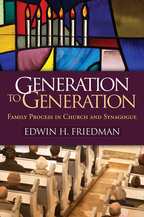 Generation to Generation
Family Process in Church and Synagogue
Edwin H. Friedman
Foreword by Gary Emanuel and Mickie Crimone
Hardcover
Paperback
e-book
print + e-book
Hardcover
July 19, 1985
ISBN 9780898620597
Price: $85.00 $59.50
319 Pages
Size: 6" x 9"
order
Paperback
March 2, 2011
ISBN 9781609182366
Price: $35.00 $24.50
319 Pages
Size: 6" x 9"
order

Professors: free copies available for adoption consideration
Download an e-book copy now or order a print copy
---
Edwin H. Friedman
, until his death in 1996, worked for more than 35 years in the Washington, DC, metropolitan area, and was in great demand as a consultant and public speaker throughout the country. A family therapist and ordained rabbi, Dr. Friedman was well known in the fields of mental health and pastoral education for his motivational style and his unique blend of systems thinking, humor, and common sense. He offered acclaimed workshops for mental health practitioners, clergy, business leaders, and others.