New Edition of a Bestseller
More than 125,000 in print!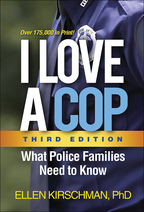 I Love a Cop
Third Edition
What Police Families Need to Know
Hardcover
Paperback
e-book
print + e-book
Hardcover
May 3, 2018
ISBN 9781462535385
Price: $52.00 $44.20
356 Pages
Size: 6" x 9"
pre-order
Paperback
May 3, 2018
ISBN 9781462533855
Price: $16.95 $14.41
356 Pages
Size: 6" x 9"
pre-order
---
The new edition will be published May 3, 2018. If you need this title before then, please see the
previous edition
.
---
P
olice officers today face unprecedented challenges—anti-police sentiment, increased danger, massive public scrutiny, and the ever-present threat of terrorism. Now thoroughly updated, this trusted resource has already helped over 125,000 police families manage the stress of the job and create a supportive home environment where everyone can thrive. The third edition includes new stories from police families, new chapters on relationships and living through troubled times, and fully updated resources. Discussions of trauma and resilience, domestic abuse, and addictions have been expanded with the latest information and practical advice. Whether they read the book cover to cover or refer to it when problems arise, families will find no-nonsense guidance they can depend on.
Mental health professionals, see also
Counseling Cops: What Clinicians Need to Know
, by Ellen Kirschman, Mark Kamena, and Joel Fay.