Bestseller
More than 100,000 in print!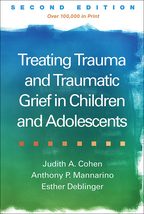 Create flyer
Treating Trauma and Traumatic Grief in Children and Adolescents
Second Edition
Hardcover
e-book
print + e-book
Hardcover
February 16, 2017
ISBN 9781462528400
Price: $49.00
356 Pages
Size: 6" x 9"
order
Check out a special package offer including this title!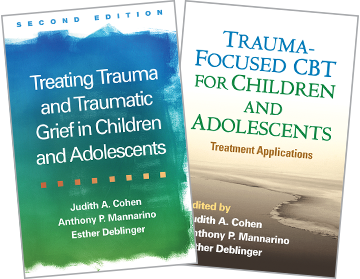 ---
Sign up for
emails
on upcoming titles on Trauma & PTSD (with special discounts)!
---
The
reproducible materials
can be downloaded and printed in PDF format.
---
T
his authoritative guide has introduced many tens of thousands of clinicians to Trauma-Focused Cognitive-Behavioral Therapy (TF-CBT), a leading evidence-based treatment for traumatized children and their parents or caregivers. Preeminent clinical researchers provide a comprehensive framework for assessing posttraumatic stress disorder (PTSD), other trauma-related symptoms, and traumatic grief in 3- to 18-year-olds; building core coping skills; and directly addressing and making meaning of children's trauma experiences. Implementation is facilitated by sample scripts, case examples, troubleshooting tips, and
reproducible
client handouts. Purchasers get access to a webpage where they can download and print the reproducible materials in a convenient 8½" x 11" size. TF-CBT is listed in SAMHSA's National Registry of Evidence-Based Programs and Practices.
New to This Edition
Incorporates a decade's worth of advances in TF-CBT research and clinical practice.
Updated for DSM-5.
Chapter on the model's growing evidence base.
Chapter on group applications.
Expanded coverage of complex trauma, including ways to adapt TF-CBT for children with severe behavioral or affective dysregulation.
See also the edited volume
Trauma-Focused CBT for Children and Adolescents: Treatment Applications
for more information on tailoring TF-CBT to children's varying developmental levels and cultural backgrounds.