When to Use What Research Design
Paperback
e-book
print + e-book
Paperback
February 21, 2012
ISBN 9781462503537
Price: $48.00
378 Pages
Size: 7" x 10"
order
Check out a special package offer including this title!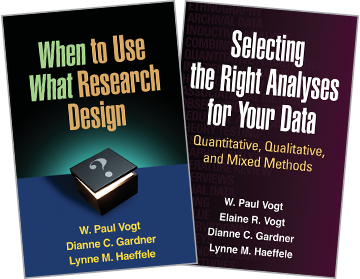 ---
W. Paul Vogt
, PhD, until his death in 2016, was Emeritus Professor of Research Methods and Evaluation at Illinois State University, where he received both teaching and research awards. Dr. Vogt's areas of specialization included research design and data analysis, with particular emphasis on combining qualitative, quantitative, and graphic approaches. His books include
Selecting the Right Analyses for Your Data
and
When to Use What Research Design
.
Dianne C. Gardner
, PhD, is Associate Professor of Educational Administration at Illinois State University. Dr. Gardner's research interests include assessment, organizational development, program evaluation, P20 systems, and qualitative research methodology.
Lynne M. Haeffele
, PhD, is Senior Research Associate in the Center for the Study of Education Policy at Illinois State University. Dr. Haeffele's research interests include combining research designs, applying research findings to policy and practice, program evaluation, and the topical areas of college readiness, organizational performance, and school–university partnerships.