Order online and
save 15%
plus get
free shipping!
Clinical Practice with Children, Adolescents, and Families Series
Edited by Nancy Boyd Webb
This series presents a broad range of topics relevant for today's social workers, psychologists, counselors, and other professionals who work with children, adolescents, and families. Designed for practical use, volumes feature specific discussions of assessment, interventions, therapeutic roadblocks, the therapeutic relationship, and professional and value issues, illuminated by numerous case examples.
New Title:
All Titles:
---
Order by: A-Z, Z-A, author, publication date, media type.
---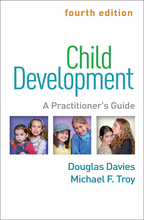 Child Development: Fourth Edition: A Practitioner's Guide

Douglas Davies and Michael F. Troy
Hardcover
April 20, 2020
$65.00
$55.25
e-Book
April 20, 2020
$65.00
$55.25
Print + e-Book
Save 45%!
$130.00
$71.50