David A. Kenny

David A. Kenny, PhD, is Board of Trustees Professor in the Department of Psychology at the University of Connecticut, and he has also taught at Harvard University and Arizona State University. He served as first quantitative associate editor of Psychological Bulletin. Dr. Kenny was awarded the Donald Campbell Award from the Society of Personality and Social Psychology. He is the author of five books and has written extensively in the areas of mediational analysis, interpersonal perception, and the analysis of social interaction data.

---
All titles by David A. Kenny: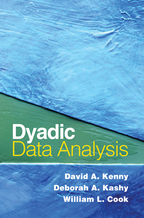 Dyadic Data Analysis
David A. Kenny, Deborah A. Kashy, and William L. Cook
Foreword by Jeffry A. Simpson
Paperback
November 26, 2020
$47.00
e-Book
March 1, 2011
$47.00
Print +

e-Book


Save 45%!
$94.00
$51.70