T. Chris Riley-Tillman

T. Chris Riley-Tillman, PhD, is Associate Provost and Professor of School Psychology at the University of Missouri–Columbia. He is a Senior Advisor for the National Center on Intensive Intervention, a Fellow of Division 16 (School Psychology) of the American Psychological Association (APA), and a member of the Society for the Study of School Psychology. He is also the creator and lead developer of the Evidence Based Intervention Network, a nonprofit website that contains intervention and assessment resources for educational professionals developed by researchers. A recipient of the Tom Oakland Mid-Career Research Award from APA Division 16, Dr. Riley-Tillman has published over 86 journal articles and books on social behavior assessment, schoolwide service delivery, and single-case design.

---
All titles by T. Chris Riley-Tillman: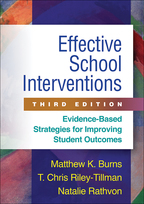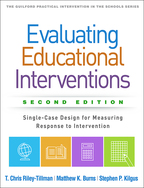 Evaluating Educational Interventions: Second Edition: Single-Case Design for Measuring Response to Intervention

T. Chris Riley-Tillman, Matthew K. Burns, and Stephen P. Kilgus
Paperback
March 9, 2020
$35.00
$24.50
e-Book
February 3, 2020
$35.00
$24.50
Print + e-Book
Save 45%!
$70.00
$38.50