Bestselling Practitioner Guide and Text
More than 125,000 in print!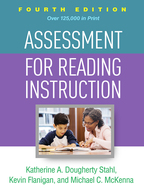 Create flyer
Assessment for Reading Instruction
Fourth Edition
Hardcover
Paperback
e-book
print + e-book
Hardcover
December 9, 2019
ISBN 9781462541584
Price: $68.00
345 Pages
Size: 8" x 10½"
order
Paperback
December 9, 2019
ISBN 9781462541577
Price: $45.00
345 Pages
Size: 8" x 10½"
order
---
Katherine A. Dougherty Stahl
, EdD, is a literacy consultant and author who focuses on translating literacy research into practice. Formerly, she was Clinical Professor of Literacy at New York University (NYU), where she taught graduate courses and served as Director of both the Literacy Program and the NYU Literacy Clinic. Before entering academia, Dr. Stahl taught in public elementary and middle school classrooms for over 25 years. She is the coauthor or coeditor of several books, and her articles have appeared in the leading journals of research and practice. Dr. Stahl specializes in reading acquisition, comprehension instruction, reading intervention, and literacy assessment. Currently, she partners with educators as a consultant to support their efforts to improve reading achievement, especially for students with reading difficulties.
Kevin Flanigan
, PhD, is Professor in the Literacy Department at West Chester University of Pennsylvania (WCU). He works in the WCU Reading Center along with master's students to assess and teach children who struggle to read and write. A former middle-grades classroom teacher and reading specialist/coach, Dr. Flanigan researches and writes about developmental word knowledge and struggling readers. He is coauthor of several books, including
Assessment for Reading Instruction, Fourth Edition
, and
Developing Word Recognition
.
Michael C. McKenna
, PhD, was Thomas G. Jewell Professor of Reading in the School of Education and Human Development at the University of Virginia until his death in 2016. He authored, coauthored, or edited more than 20 books and over 100 articles, chapters, and technical reports on a range of literacy topics. Dr. McKenna also served as Series Editor, with Sharon Walpole, of
The Essential Library of PreK–2 Literacy
. His research was sponsored by the National Reading Research Center and the Center for the Improvement of Early Reading Achievement. He was a corecipient of the Edward B. Fry Book Award from the Literacy Research Association and the Award for Outstanding Academic Books from the American Library Association, and a member of the Reading Hall of Fame.