Bestseller
More than 175,000 in print!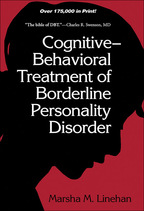 Create flyer
Cognitive-Behavioral Treatment of Borderline Personality Disorder
Hardcover
e-book
print + e-book
Hardcover
May 14, 1993
ISBN 9780898621839
Price: $85.00
558 Pages
Size: 6⅛" x 9¼"
order
---
Voted "Most Influential Book" (along with the
Skills Training Manual
) by
Psychotherapy Networker
readers! See also the groundbreaking bestseller,
DBT® Skills Training Manual: Second Edition
.
---
Sign up for
emails
on upcoming titles on Dialectical Behavior Therapy (with special discounts)!
---
I. THEORY AND CONCEPTS.
1. Borderline Personality Disorder: Concepts, Controversies, and Definitions.
2. Dialectical and Biosocial Underpinnings of Treatment.
3. Behavioral Patterns: Dialectical Dilemmas in the Treatment of Borderline Patients.
II. TREATMENT OVERVIEW AND GOALS.
4. Overview of Treatment: Targets, Strategies, and Assumptions in a Nutshell.
5. Behavioral Targets in Treatment: Behaviors to Increase and Decrease.
6. Structuring Treatment Around Target Behaviors: Who Treats What and When.
III. BASIC TREATMENT STRATEGIES.
7. Dialectical Treatment Strategies.
8. Core Strategies: Part I. Validation.
9. Core Strategies: Part II. Problem Solving.
10. Change Procedures: Part I. Contingency Procedures (Managing Contingencies and Observing Limits.
11. Change Procedures: Part II. Skill Training, Exposure, Cognitive Modification.
12. Stylistic Strategies: Balancing Communication.
13. Case Management Strategies: Interacting with the Community.
IV. STRATEGIES FOR SPECIFIC TASKS.
14. Structural Strategies.
15. Special Treatment Strategies.