Doing Couple Therapy
Second Edition
Craft and Creativity in Work with Intimate Partners
Hardcover
Paperback
e-book
print + e-book
Hardcover
May 24, 2017
ISBN 9781462530144
Price: $81.00
292 Pages
Size: 6" x 9"
order
Paperback
May 25, 2017
ISBN 9781462530137
Price: $31.00
292 Pages
Size: 6" x 9"
order
Check out a special package offer including this title!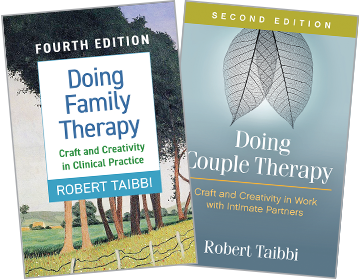 ---
Robert Taibbi
, LCSW, is an experienced clinician, supervisor, and clinical director who has been practicing almost 50 years. He is the author of numerous books, including
Doing Family Therapy
,
Fourth Edition
, and
Doing Couple Therapy, Second Edition
, as well as over 300 magazine and journal articles, and writes a column entitled "Fixing Families" for Psychology Today online. Mr. Taibbi provides training both nationally and internationally in couple therapy, family therapy, brief therapy, and clinical supervision. He has a private practice in Charlottesville, Virginia.