More than 50,000 in print!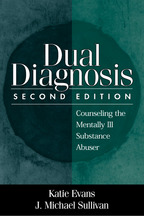 Dual Diagnosis
Second Edition
Counseling the Mentally Ill Substance Abuser
A Paperback Original
e-book
print + e-book
A Paperback Original
December 4, 2000
ISBN 9781572304468
Price: $40.00
290 Pages
Size: 6" x 9"
order
---
Katie Evans
, PhD, NCACII, has a PhD in clinical psychology and is an Oregon Board Certified alcohol and drug counselor and a nationally credited alcohol and drug counselor. Dr. Evans specializes in counseling survivors of abuse who are chemically dependent. She is currently CEO and Treatment Coordinator at the Evans and Sullivan Clinic, cofounded with J. Michael Sullivan, where she works with adults and adolescents who have coexisting substance abuse and psychological problems. Widely published, Dr. Evans has coauthored several books with J. Michael Sullivan, including
Treating Addicted Survivors of Trauma
. She also serves on the faculty of Portland State University; conducts workshops and seminars on a variety of mental health and recovery-related topics; and consults to numerous agencies and treatment centers in the United States and Europe.
J. Michael Sullivan
, PhD, is a licensed clinical psychologist specializing in the treatment of persons with dual disorders. He is currently Clinical Director at the Evans and Sullivan Clinic. With Katie Evans, he has coauthored dealing with the assessment and treatment of dual disorders. Dr. Sullivan has also given workshops on dual diagnosis in the United States and abroad, and has served as a consultant to various dual diagnosis programs and task forces.