More than 50,000 in print!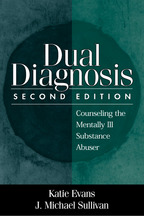 Dual Diagnosis
Second Edition
Counseling the Mentally Ill Substance Abuser
A Paperback Original
e-book
print + e-book
A Paperback Original
December 4, 2000
ISBN 9781572304468
Price: $40.00
290 Pages
Size: 6" x 9"
order
---
U
pdated for today's health care climate, the revised and expanded second edition of this popular volume offers a thorough introduction to clinical work with this difficult-to-treat population. Providing a unique synthesis of chemical dependency and mental health models, the book articulates a framework for assessment and treatment and describes a range of effective counseling and motivational strategies for adolescents and adults. The second edition includes discussions of the latest developments in treatment, sample treatment plans, increased coverage of ways to incorporate 12-step concepts into mental health interventions, and a new section on trauma-based disorders in addicted female adolescents. The practical utility of the volume is enhanced by clinical vignettes, clearly presented tables, and reproducible forms.