A Classic Text
The Classic Text!
More than 100,000 Sold!
More than 45,000 in print!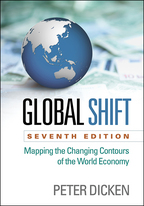 Create flyer
Global Shift
Seventh Edition
Mapping the Changing Contours of the World Economy
A Paperback Original
e-book
print + e-book
A Paperback Original
February 10, 2015
ISBN 9781462519552
Price: $69.00
619 Pages
Size: 6.69" x 9.53"
order
---
Copublication information: Available outside the US, Canada, and US territories from Sage Publications Ltd., London, UK.
---
New to this edition:
Every chapter thoroughly revised and updated.
All 228 figures (now in color) are new or redesigned.
Addresses the ongoing fallout from the 2008 global financial crisis.
Discussions of timely topics: tax avoidance and corporate social responsibility; global problems of unemployment, poverty, and inequality; environmental degradation; the Eurozone crisis, and more.