New in paperback!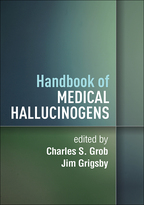 Handbook of Medical Hallucinogens
Hardcover
Paperback
e-book
print + e-book
Hardcover
March 9, 2021
ISBN 9781462545445
Price: $75.00
582 Pages
Size: 7" x 10"
order
Paperback
January 13, 2023
ISBN 9781462551897
Price: $45.00
582 Pages
Size: 7" x 10"
pre-order
---
T

his handbook reviews promising applications of psychedelics in treatment of such challenging psychiatric problems as posttraumatic stress disorder, major depression, substance use disorders, and end-of-life anxiety

. Experts from multiple disciplines synthesize current knowledge on psilocybin, MDMA, ketamine, and other medical hallucinogens. The volume comprehensively examines these substances' neurobiological mechanisms, clinical effects, therapeutic potential, risks, and anthropological and historical contexts. Coverage ranges from basic science to practical clinical considerations, including patient screening and selection, dosages and routes of administration, how psychedelic-assisted sessions are structured and conducted, and management of adverse reactions.