Bestseller
More than 100,000 in print!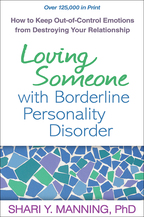 Loving Someone with Borderline Personality Disorder
How to Keep Out-of-Control Emotions from Destroying Your Relationship
Hardcover
Paperback
e-book
print + e-book
Hardcover
June 28, 2011
ISBN 9781609181956
Price: $57.00
253 Pages
Size: 6" x 9"
order
Paperback
June 29, 2011
ISBN 9781593856076
Price: $16.95
253 Pages
Size: 6" x 9"
order
---
Sign up for
e-alerts
on upcoming titles on Dialectical Behavior Therapy (with special discounts)!
---
Shari Y. Manning
, PhD, is a clinician in private practice and the former President/CEO of Behavioral Tech and Behavioral Tech Research, the organizations founded by Marsha M. Linehan to provide training in DBT. Dr. Manning has focused on the treatment of people with BPD since 1993. She lives in Columbia, South Carolina.