More than 200,000 in print!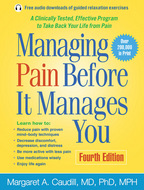 Create flyer
Managing Pain Before It Manages You
Fourth Edition
Hardcover
Paperback
e-book
print + e-book
Hardcover
January 5, 2016
ISBN 9781462533701
Price: $65.00
281 Pages
Size: 8" x 10½"
order
Paperback
January 6, 2016
ISBN 9781462522774
Price: $24.95
281 Pages
Size: 8" x 10½"
order
---
J
oin the hundreds of thousands of readers who have found help and hope for getting their lives back from chronic pain in this empowering workbook. Top pain specialist and physician Margaret A. Caudill spells out 10 steps that can radically change the way you feel—both physically and emotionally. Dr. Caudill provides state-of-the-art information about the causes and treatment of pain and guides you to:
Identify what increases and decreases your symptoms.
Reduce your pain and emotional distress.
Make informed decisions about medications and nutritional therapies.
Benefit from relaxation (including audio downloads), meditation, and gentle exercise.
Communicate effectively about your pain.
Learn essential skills for coping and problem solving.
Use worksheets to help set and meet doable personal goals.
The fully updated fourth edition incorporates important advances in pain management and mind–body medicine. It features new content on mindfulness; a "Quick Skill" section in each chapter with simple exercises that can have an immediate impact; updated supplementary reading and resources, including smartphone apps; and more. At the
companion website
, you can access the audio tracks and download and print additional copies of the worksheets.