Bestselling Clinical Guide and Text
More than 75,000 in print!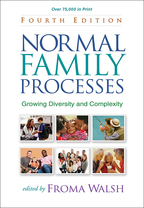 Normal Family Processes
Fourth Edition
Growing Diversity and Complexity
Hardcover
Paperback
e-book
print + e-book
Hardcover
November 29, 2011
ISBN 9781462502554
Price: $98.00
592 Pages
Size: 6⅛" x 9¼"
order
Paperback
October 2, 2015
ISBN 9781462525485
Price: $48.00
592 Pages
Size: 6⅛" x 9¼"
order
---
Froma Walsh
, PhD, MSW, is the Mose and Sylvia Firestone Professor Emerita in the School of Social Service Administration and the Department of Psychiatry at the Pritzker School of Medicine, University of Chicago. She is also Co-Founder and Co-Director of the University-affiliated Chicago Center for Family Health. Dr. Walsh is a past president of the American Family Therapy Academy and past editor of the
Journal of Marital and Family Therapy
. She has received many honors for her distinguished contributions and leadership in the field of family therapy, including awards from the Division of Family Psychology of the American Psychological Association, the American Family Therapy Academy, the American Association for Marriage and Family Therapy, the American Orthopsychiatric Association, and the Society for Pastoral Care Research. Widely published, she is a frequent speaker and international consultant.