Coming soon!
More than 60,000 in print!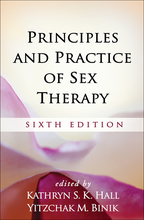 Principles and Practice of Sex Therapy
Sixth Edition
Hardcover
e-book
print + e-book
Hardcover
July 1, 2020
ISBN 9781462543397
Price: $75.00 $52.50
536 Pages
Size: 6⅛" x 9¼"
pre-order

Professors: Free copies available for adoption consideration
---
Professors: Do you have to make an adoption decision soon, or would like to update your syllabus for the next term?
Request a set of page proofs
now for immediate review.
---
Introduction, Yitzchak M. Binik & Kathryn S. K. Hall
I. Sex Therapy for Sexual Dysfunction
1. Sexual Interest/Arousal Disorder in Women, Lori Brotto & Julia Velten
2. Female Sexual Arousal Disorder, Cindy M. Meston, Amelia M. Stanton, & Stanley E. Althof
3. Low Sexual Desire in Men, Pedro Nobre, Joana Carvalho, & Kristen Mark
4. An Integrative Biopsychosocial Approach to the Conceptualization and Treatment of Erectile Disorder, Dennis Kalogeropoulos & Julie Larouche
5. Orgasm Problems in Women, Laurie B. Mintz & Juliana Guitelman
6. Treatment of Premature Ejaculation: Psychotherapy, Pharmacotherapy, and Combined Therapy, Stanley E. Althof
7. Delayed Ejaculation, Michael A. Perelman
8. Genital Pain in Women and Men, Sophie Bergeron, Natalie O. Rosen, Caroline F. Pukall, & Serena Corsini-Munt
9. Lifelong Inability to Experience Intercourse (Vaginismus), Moniek M. ter Kuile & Elke D. Reissing
10. Sexual Aversion, Charmaine Borg, Stephanie Both, Moniek M. ter Kuile, & Peter J. de Jong
II. Therapeutic Challenges for Sex Therapy
Section A. Sexual Limits and Boundaries
11. The Privileging of Pleasure: Sex Therapy in Global Cultural Context, Kathryn S. K. Hall & Cynthia A. Graham
12. Out-of-Control Sexual Behavior, Douglas Braun-Harvey & Michael A. Vigorito
13. The Pleasure of Power: Sex Therapy in the BDSM Community, David Ortmann
14. Restoring Trust and Sexual Intimacy after Infidelities, Lawrence Josephs
Section B. Lifespan and Transitions
15. Sexuality in the Transition to Parenthood, Natalie O. Rosen & E. Sandra Byers
16. Sexuality and Aging: Navigating the Sexual Challenges of Aging Bodies, Daniel N. Watter
17. Sex and Couple Therapy with Survivors of Childhood Trauma, Heather B. MacIntosh, Marie-Pier Vaillancourt-Morel, & Sophie Bergeron
18. Gender Dysphoria in Children and Adolescents, Kenneth J. Zucker
19. Improving Sexual Function and Pleasure in Transgender Persons, Mats Holmberg, Stefan Arver, & Cecilia Dhejne
Section C. Medical Issues
20. Sexuality and Cancer, Sharon Bober & Sandy Falk
21. Sexuality in Men and Women with Spinal Cord Injury, Frédérique Courtois & Marina Gérard
22. Persistent Genital Arousal Disorder, Caroline F. Pukall & David Goldmeier
23. Conclusion: Where Is Sex Therapy Going?, Marta Meana, Kathryn S. K. Hall, & Yitzchak M. Binik
Index