Bestseller
More than 75,000 in print!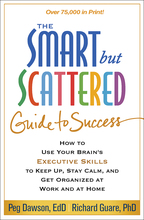 Create flyer
The Smart but Scattered Guide to Success
How to Use Your Brain's Executive Skills to Keep Up, Stay Calm, and Get Organized at Work and at Home
Hardcover
Paperback
e-book
print + e-book
Hardcover
January 15, 2016
ISBN 9781462522798
Price: $57.00
294 Pages
Size: 7" x 10"
order
Paperback
January 16, 2016
ISBN 9781462516964
Price: $16.95
294 Pages
Size: 7" x 10"
order
---
Read a Q&A
with featured author, Richard Guare!
---
Sign up to receive
emails
on upcoming titles by Drs. Dawson and Guare (with special discounts)!
---
The
practical tools
can be downloaded and printed in PDF format.
---
A
re you smart, scattered, and struggling? You're not alone. Cutting-edge research shows that today's 24/7 wired world and the growing demands of work and family life may simply max out the part of the brain that manages complex tasks. That's especially true for those lacking strong executive skills—the core brain-based abilities needed to maintain focus, meet deadlines, and stay cool under pressure. In this essential guide, leading experts Peg Dawson and Richard Guare help you map your own executive skills profile and take effective steps to boost your organizational skills, time management, emotional control, and nine other essential capacities. The book is packed with science-based strategies and concrete examples, plus downloadable
practical tools
for creating your own personalized action plan. Whether on the job or at home, you can get more done with less stress.
See also the authors'
Smart but Scattered
parenting guides, plus an academic planner for students and related titles for professionals.