The Trauma Recovery Group
A Guide for Practitioners
A Paperback Original
e-book
print + e-book
A Paperback Original
February 16, 2011
ISBN 9781609180577
Price: $42.00
193 Pages
Size: 8" x 10½"
order
Check out a special package offer including this title!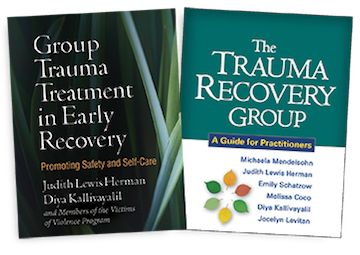 ---
Sign up for
emails
on upcoming titles on Trauma & PTSD (with special discounts)!
---
R
ich with expert, practical guidance for therapists, this book presents a time-limited group treatment approach for survivors of interpersonal trauma.
The Trauma Recovery Group
is a Stage 2 approach within Judith Herman's influential stage model of treatment. It is designed for clients who have achieved basic safety and stability in present-day life and who are ready to work on processing and integrating traumatic memories. Vivid case examples and transcripts illustrate the process of screening, selecting, and orienting group members and helping them craft and work toward individualized goals, while optimizing the healing power of group interactions. In a convenient large-size format, the book includes reproducible handouts, worksheets, and flyers.
See also
Group Trauma Treatment in Early Recovery
, by Judith Lewis Herman and Diya Kallivayalil, which presents a Stage 1 approach that focuses on establishing safety, stability, and self-care.