More than 40,000 in print!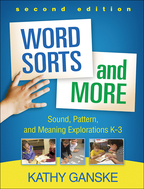 Create flyer
Word Sorts and More
Second Edition
Sound, Pattern, and Meaning Explorations K-3
Hardcover
Paperback
e-book
print + e-book
Hardcover
February 20, 2018
ISBN 9781462533343
Price: $68.00
493 Pages
Size: 8" x 10½"
order
Paperback
February 21, 2018
ISBN 9781462533336
Price: $45.00
493 Pages
Size: 8" x 10½"
order
Check out a special package offer including this title!
---
New to this edition:
Greatly expanded content on teaching ELs, including a chapter showcasing researcher perspectives as well as supplemental online resources.
Cutting-edge SAIL (survey, analyze, interpret, link) framework for small-group lesson planning, complete with a detailed sample lesson and script.
Additional user-friendly tools: student performance records and the No-Nonsense Word Recognition Assessment.
Firsthand teacher perspectives now get a full chapter; many are new.