Bestseller
More than 125,000 in print!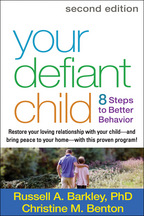 Create flyer
Your Defiant Child
Second Edition
Eight Steps to Better Behavior
Hardcover
Paperback
e-book
print + e-book
Hardcover
July 1, 2013
ISBN 9781462510436
Price: $29.00
257 Pages
Size: 6" x 9"
order
Paperback
July 2, 2013
ISBN 9781462510078
Price: $18.95
257 Pages
Size: 6" x 9"
order
---
Read a Q&A
with featured author, Russell A. Barkley!
---
Sign up for
emails
on upcoming titles by Russell A. Barkley (with special discounts)!
---
The
practical tools
can be downloaded and printed in PDF format.
---
D
iscover a way to end constant power struggles with your defiant, oppositional, "impossible" 5- to 12-year-old, with the help of leading child psychologist Russell A. Barkley. Dr. Barkley's approach is research based, practical, and doable—and leads to lasting behavior change. Vivid, realistic stories illustrate what the techniques look like in action. Step by step, learn how you can:
Harness the power of positive attention and praise.
Use rewards and incentives effectively.
Stay calm and consistent—even on the worst of days.
Establish a time-out system that works.
Target behavioral issues at home, in school, and in public places.
Thoroughly revised to include the latest resources and 15 years' worth of research advances, the second edition also reflects Dr. Barkley's ongoing experiences with parents and kids. Helpful questionnaires and forms can be downloaded and printed in a convenient 8½" x 11" size.
Mental health professionals, see also the related title,
Defiant Children, Third Edition: A Clinician's Manual for Assessment and Parent Training
. For a teen focus, see also
Defiant Teens, Second Edition
(for professionals), and
Your Defiant Teen, Second Edition
(for parents), by Russell A. Barkley and Arthur L. Robin.
Winner— Parents' Choice "Approved" Award