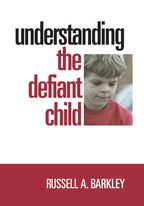 Understanding the Defiant Child
DVD
October 24, 2006
ISBN 9781593854249
Price: $110.00
28 Pages
34-Minute DVD + 28-Page Manual
order
---
Read a Q&A
with featured author, Russell A. Barkley!
---
Sign up for
emails
on upcoming titles by Russell A. Barkley (with special discounts)!
---
T
antrums, resistance to chores, negativity—occasional clashes between parents and children are not uncommon. But when a child's defiance is chronic and disruptive of family life, he or she may have Oppositional Defiant Disorder (ODD). In this clear and accessible video program, leading authority Russell A. Barkley illuminates the nature of ODD and presents real-life scenes of family interactions and commentary from parents. Viewers gain state-of-the-science information about:
How to distinguish ODD from milder forms of misbehavior
Long-term outcomes for defiant children
The relationship between ODD and ADHD
What can be done to help children and families
Running time: 34 minutes; includes 28-page manual.