Barkley Functional Impairment Scale (BFIS for Adults)
A Paperback Original
May 11, 2011
ISBN 9781609182199
Price: $195.00
118 Pages
Size: 8" x 10½"
Convenient Wire Binding
order
Check out a special package offer including this title!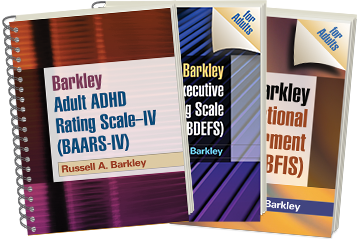 ---
Read a Q&A
with featured author, Russell A. Barkley!
---
Sign up for
emails
on upcoming titles by Russell A. Barkley (with special discounts)!
---
T
o diagnose a mental disorder or evaluate a disability claim, clinicians must assess functional impairment—not just the presence of symptoms. Meeting a key need, the
Barkley Functional Impairment Scale (BFIS for Adults)
is the first empirically based, norm-referenced tool designed to evaluate possible impairment in 15 major domains of psychosocial functioning in adults. Featuring both self-report and other-report forms (for example, spouse, parent, or sibling), the BFIS is reliable, valid, and user friendly. The long version takes the average adult 5-7 minutes to complete, and the Quick Screen takes only 3-5 minutes. Complete instructions for scoring and interpreting the scale are provided.
QUICK VIEW
What does it do?:
Assesses psychosocial impairments in 15 domains of major life activities.
Age Range
: 18-89
Administration Time:
Long Form: 5-7 minutes. Quick Screen: 3-5 minutes.
Format
: Self-report plus other-report (for example, spouse, parent, or sibling) rating scales.
Cost of Additional Forms:
No cost—purchasers get permission to reproduce the forms and score sheets for repeated use.
See also the
Barkley Adult ADHD Rating Scale—IV (BAARS-IV)
, which measures current and recollected ADHD symptoms, and the
Barkley Deficits in Executive Functioning Scale (BDEFS for Adults)
, which assesses clinically significant executive functioning difficulties.  
Includes Permission to Photocopy
Enhancing the convenience and value of the BFIS, the limited photocopy license allows purchasers to reproduce the forms and score sheets without the expense of reordering materials from the publisher. The large format and sturdy wire binding facilitate photocopying.
Age Range
: 18-89
Forms and Score Sheets:
BFIS-LF: Self-Report
BFIS Quick Screen: Self-Report
BFIS-LF: Other-Report
BFIS Quick Screen: Other-Report
BFIS Impairment Interview
BFIS-LF: Self-Report Score Sheet for Raw Scores (Ages 18-39)
BFIS-LF: Self-Report Score Sheet for Raw Scores (Ages 40-59)
BFIS-LF: Self-Report Score Sheet for Raw Scores (Ages 60-89)
BFIS Quick Screen: Self-Report Score Sheet for Raw Scores (All Ages)