More than 40,000 in print!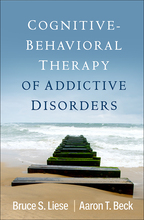 Create flyer
Cognitive-Behavioral Therapy of Addictive Disorders
Hardcover
e-book
print + e-book
Hardcover
May 5, 2022
ISBN 9781462548842
Price: $40.00
292 Pages
Size: 6" x 9"
order
---
G

rounded in decades of CBT research and clinical practice, as well as cutting-edge cognitive science, this book provides critical tools for understanding and treating the full range of addictive behaviors.

Bruce S. Liese and Aaron T. Beck explain how to systematically develop case conceptualizations and support clients in achieving their recovery goals. The authors use vivid case examples to illustrate CBT techniques, structure, psychoeducation, motivational interviewing, group treatment, relapse prevention, and other effective therapeutic components. Several

reproducible

forms can be downloaded and printed in a convenient 8½" x 11" size. Reflecting nearly 30 years of important advances in the field, this entirely new book replaces the authors' classic

Cognitive Therapy of Substance Abuse

.