New edition!
More than 40,000 in print!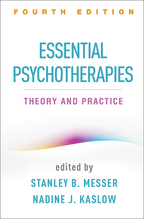 Essential Psychotherapies
Fourth Edition
Theory and Practice
Hardcover
Paperback
e-book
print + e-book
Hardcover
January 30, 2020
ISBN 9781462540945
Price: $90.00 $76.50
500 Pages
Size: 7" x 10"
order
Paperback
November 27, 2019
ISBN 9781462540846
Price: $45.00 $38.25
500 Pages
Size: 7" x 10"
order

Professors: free copies available for adoption consideration
Download an e-book copy now or order a print copy
---
New to this edition:
Incorporates important developments in clinical practice and research.
Entirely new chapters on CBT, third-wave CBT, couple therapies, and interpersonal and brief psychodynamic therapies; all other chapters fully updated.
Increased attention to multiple dimensions of diversity, the evidence-based practice movement, psychotherapy integration, and applications to physical health care.