More than 60,000 in print!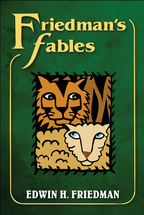 Create flyer
Friedman's Fables
Paperback
e-book
print + e-book
Paperback
February 24, 2014
ISBN 9781462516704
Price: $24.00
246 Pages
Size: 5½" x 8¼"
Copyright Date: 1990
order
Check out a special package offer including this title!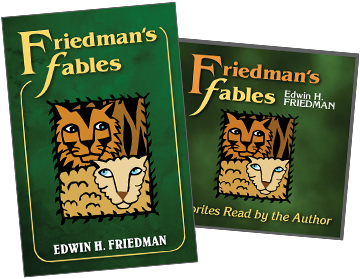 ---
E
dwin H. Friedman has woven 24 illustrative tales that offer fresh perspectives on familiar human foibles and reflect the author's humor, pathos, and understanding. Friedman takes on resistance and other "demons" to show that neither insight, nor encouragement, nor intimidation can in themselves motivate an unmotivated person to change. These tales playfully demonstrate that new ideas, new questions, and imagination, more than accepted wisdom, provide each of us with the keys to overcoming stubborn emotional barriers and facilitating real change both in ourselves and others. Thought-provoking discussion questions for each fable are included.
See also the downloadable audiobook,
Friedman's Fables: Favorites Read by the Author
, featuring 15 of the tales narrated in Dr. Friedman's inimitable style.