The Classic Work
More than 45,000 in print!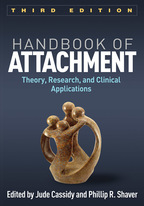 Create flyer
Handbook of Attachment
Third Edition
Theory, Research, and Clinical Applications
Hardcover
Paperback
e-book
print + e-book
Hardcover
July 19, 2016
ISBN 9781462525294
Price: $129.00
1068 Pages
Size: 7" x 10"
order
Paperback
March 19, 2018
ISBN 9781462536641
Price: $69.00
1068 Pages
Size: 7" x 10"
order
---
W
idely regarded as the state-of-the-science reference on attachment, this handbook interweaves theory and cutting-edge research with clinical applications. Leading researchers examine the origins and development of attachment theory; present biological and evolutionary perspectives; and explore the role of attachment processes in relationships, including both parent–child and romantic bonds. Implications for mental health and psychotherapy are addressed, with reviews of exemplary attachment-oriented interventions for children and adolescents, adults, couples, and families. Contributors discuss best practices in assessment and critically evaluate available instruments and protocols.
New to This Edition
Chapters on genetics and epigenetics, psychoneuroimmunology, and sexual mating.
Chapters on compassion, school readiness, and the caregiving system across the lifespan.
Chapter probing the relation between attachment and other developmental influences.
Nearly a decade's worth of theoretical and empirical advances.