More than 55,000 in print!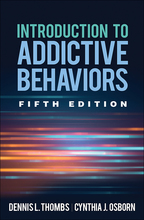 Create flyer
Introduction to Addictive Behaviors
Fifth Edition
Hardcover
e-book
print + e-book
Hardcover
May 15, 2019
ISBN 9781462539222
Price: $62.00
442 Pages
Size: 6" x 9"
order
e-book
April 5, 2019
Price: $62.00
442 Pages
order
print + e-book
Price: $124.00 $74.40
442 Pages
order
---
Sign up for
emails
on upcoming titles on Addictions (with special discounts)!
---
N
ow revised and updated, this widely used text comprehensively reviews theories of addiction to give students and professionals a multidisciplinary foundation for clinical practice. It explores the causes and mechanisms of substance and behavioral addictions, as well as implications for helping people recover. Providing a science-based perspective, the text emphasizes the importance of using treatment and prevention strategies that are grounded in evidence. Thoroughly updated chapters address disease models; public health approaches; understanding and treating comorbidity; psychoanalytic, behavioral, cognitive, and family systems models; sociocultural approaches; behavioral addiction; and motivational models. Student-friendly features include end-of-chapter summaries and review questions.
New to This Edition
Updated throughout with current research and clinical advances.
Discussions of cutting-edge topics: genetics of addiction, addiction stigma, and the opioid epidemic.
New and revised clinical vignettes and review questions.