More than 55,000 in print!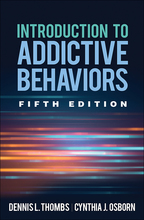 Create flyer
Introduction to Addictive Behaviors
Fifth Edition
Hardcover
e-book
print + e-book
Hardcover
May 15, 2019
ISBN 9781462539222
Price: $62.00
442 Pages
Size: 6" x 9"
order
e-book
April 5, 2019
Price: $62.00
442 Pages
order
print + e-book
Price: $124.00 $74.40
442 Pages
order
---
Sign up for
emails
on upcoming titles on Addictions (with special discounts)!
---
Dennis L. Thombs
, PhD, FAAHB, is Professor and Dean of the School of Public Health at the University of North Texas Health Science Center in Fort Worth. The focus of his scholarship is addictive behavior, with special interests in the epistemology of addiction, and in alcohol and drug use during the period of emerging adulthood. In recent years, his research has focused on analyzing drinking practices and their consequences in natural settings. Dr. Thombs is Managing Coeditor of the
American Journal of Health Behavior
. He is past President and Fellow of the American Academy of Health Behavior.
Cynthia J. Osborn
, PhD, LPCC-S, LICDC, is Professor of Counselor Education and Supervision at Kent State University. Her clinical background is in treatment of adults with co-occurring disorders (substance use disorders and mental illness). Her teaching, supervision, and scholarship focus on addictions counseling, particularly evidence-based practices such as motivational interviewing. She is a member of the Motivational Interviewing Network of Trainers and has extensive experience in the clinical supervision of counselors-in-training and professional counselors.