New Edition of a Bestselling Text and Reference
More than 55,000 in print!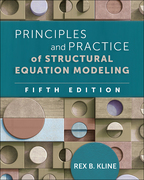 Create flyer
Principles and Practice of Structural Equation Modeling
Fifth Edition
Hardcover
Paperback
e-book
print + e-book
Hardcover
May 24, 2023
ISBN 9781462552009
Price: $113.00
494 Pages
Size: 7⅜" x 9¼"
order
Paperback
May 24, 2023
ISBN 9781462551910
Price: $75.00
494 Pages
Size: 7⅜" x 9¼"
order
---
Rex B. Kline
, PhD, is Professor of Psychology at Concordia University in Montréal, Québec, Canada. Since earning a doctorate in clinical psychology, he has conducted research on the psychometric evaluation of cognitive abilities, behavioral and scholastic assessment of children, structural equation modeling, training of researchers, statistics reform in the behavioral sciences, and usability engineering in computer science. Dr. Kline has published a number of chapters, journal articles, and books in these areas.