Bestselling Clinical Guide and Text
More than 100,000 in print!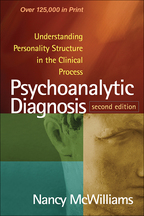 Psychoanalytic Diagnosis
Second Edition
Understanding Personality Structure in the Clinical Process
Hardcover
Paperback
e-book
print + e-book
Hardcover
July 14, 2011
ISBN 9781609184940
Price: $95.00
426 Pages
Size: 6" x 9"
order
Paperback
February 6, 2020
ISBN 9781462543694
Price: $42.00
426 Pages
Size: 6" x 9"
order
---
New to this edition:
Reflects the ongoing development of the author's approach over nearly two decades.
Incorporates important advances in attachment theory, neuroscience, and the study of trauma.
Material on the contemporary relational movement in psychoanalysis.
A number of the case examples are entirely new.