More than 45,000 in print!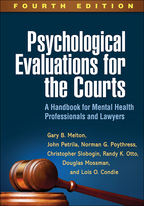 Psychological Evaluations for the Courts
Fourth Edition
A Handbook for Mental Health Professionals and Lawyers
Hardcover
e-book
print + e-book
Hardcover
December 22, 2017
ISBN 9781462532667
Price: $95.00
964 Pages
Size: 7" x 10"
order
---
New to this edition:
Extensively revised to reflect important legal, empirical, and clinical developments.
Increased attention to medical and neuroscientific research.
New protocols relevant to competence, risk assessment, child custody, and mental injury evaluations.
Updates on insanity, sentencing, civil commitment, the Americans with Disabilities Act, Social Security, juvenile and family law, and the admissibility of expert testimony.
Material on immigration law (including a sample report) and international law.
New and revised sample reports.