Bestselling Clinical Guide and Text
More than 45,000 in print!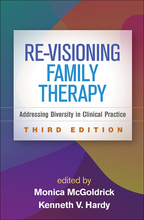 Re-Visioning Family Therapy
Third Edition
Addressing Diversity in Clinical Practice
Hardcover
e-book
print + e-book
Hardcover
June 14, 2019
ISBN 9781462531936
Price: $75.00 $56.25
614 Pages
Size: 6⅛" x 9¼"
order
---
New to this edition:
Existing chapters have been thoroughly updated and 21 chapters added, expanding the perspectives in the book.
Reflects over a decade of theoretical and clinical advances and the growing diversity of the United States.
New sections on re-visioning clinical research, trauma and psychological homelessness, and larger systems.