Substance Abuse Treatment and the Stages of Change
Second Edition
Selecting and Planning Interventions
Hardcover
Paperback
e-book
print + e-book
Hardcover
January 3, 2013
ISBN 9781462508044
Price: $76.00 $64.60
356 Pages
Size: 6" x 9"
order
Paperback
September 28, 2015
ISBN 9781462524983
Price: $31.00 $26.35
356 Pages
Size: 6" x 9"
order
Check out a special package offer including this title!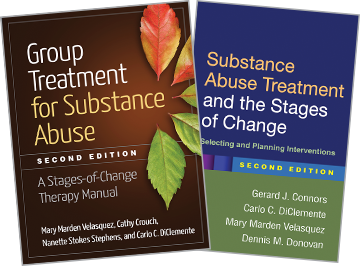 Professors: free copies available for adoption consideration
Download an e-book copy now or order a print copy
---
New to this edition:
Reflects the ongoing development of the stages-of-change model and research advances over the past decade.
Chapter on stage-based brief interventions in health care, social service, and community settings.
Group treatment chapter has been significantly revised.
Expanded coverage of the change processes relevant to each stage.