More than 40,000 in print!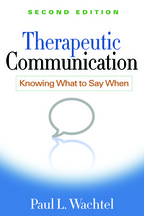 Therapeutic Communication
Second Edition
Knowing What to Say When
Hardcover
Paperback
e-book
print + e-book
Hardcover
April 11, 2011
ISBN 9781609181710
Price: $87.00 $65.25
398 Pages
Size: 6" x 9"
order
Paperback
October 1, 2013
ISBN 9781462513376
Price: $37.00 $27.75
398 Pages
Size: 6" x 9"
order

Professors: free copies available for adoption consideration
Download an e-book copy now or order a print copy
---
A
uniquely practical guide and widely adopted text, this book shows precisely what therapists can say at key moments to enhance the process of healing and change. Paul Wachtel explains why some communications in therapy are particularly effective, while others that address essentially the same content may actually be countertherapeutic. He offers clear and specific guidelines for how to ask questions and make comments in ways that facilitate collaborative exploration and promote change. Illustrated with vivid case examples, the book is grounded in an integrative theory that draws from features of psychodynamic, cognitive-behavioral, systemic, and experiential approaches.
New to This Edition
Reflects nearly 20 years of advances in the field and refinements of the author's approach.
Broader audience: in addition to psychodynamic therapists, cognitive-behavioral therapists and others will find specific, user-friendly recommendations.
Chapter on key developments and convergences across different psychotherapeutic approaches.
Chapter on the therapeutic implications of attachment theory and research.
See also Wachtel's
Relational Theory and the Practice of Psychotherapy
, which explores a new direction in psychoanalytic thought that can expand and deepen clinical practice.