More than 40,000 in print!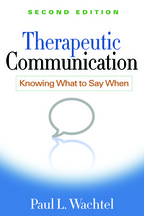 Therapeutic Communication
Second Edition
Knowing What to Say When
Hardcover
Paperback
e-book
print + e-book
Hardcover
April 11, 2011
ISBN 9781609181710
Price: $87.00 $65.25
398 Pages
Size: 6" x 9"
order
Paperback
October 1, 2013
ISBN 9781462513376
Price: $37.00 $27.75
398 Pages
Size: 6" x 9"
order

Professors: free copies available for adoption consideration
Download an e-book copy now or order a print copy
---
Paul L. Wachtel
, PhD, is CUNY Distinguished Professor in the doctoral program in clinical psychology at City College and the Graduate Center of the City University of New York. He received his doctorate in clinical psychology from Yale University and is a graduate of the postdoctoral program in psychoanalysis and psychotherapy at New York University, where he is also a faculty member. Dr. Wachtel has lectured and given workshops throughout the world on psychotherapy, personality theory, and the applications of psychological theory and research to the major social issues of our time. He has been a leading voice for integrative thinking in the human sciences and was a cofounder of the Society for the Exploration of Psychotherapy Integration. Dr. Wachtel is a recipient of the Hans H. Strupp Memorial Award for psychoanalytic writing, teaching, and research; the Distinguished Psychologist Award from Division 29 (Psychotherapy) of the American Psychological Association (APA); and the Scholarship and Research Award from Division 39 (Psychoanalysis) of APA.