More than 40,000 in print!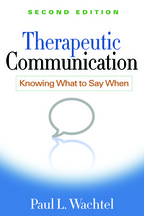 Therapeutic Communication
Second Edition
Knowing What to Say When
Hardcover
Paperback
e-book
print + e-book
Hardcover
April 11, 2011
ISBN 9781609181710
Price: $87.00 $65.25
398 Pages
Size: 6" x 9"
order
Paperback
October 1, 2013
ISBN 9781462513376
Price: $37.00 $27.75
398 Pages
Size: 6" x 9"
order

Professors: free copies available for adoption consideration
Download an e-book copy now or order a print copy
---
New to this edition:
Reflects nearly 20 years of advances in the field and refinements of the author's approach.
Broader audience: in addition to psychodynamic therapists, cognitive-behavioral therapists and others will find specific, user-friendly recommendations.
Chapter on key developments and convergences across different psychotherapeutic approaches.
Chapter on the therapeutic implications of attachment theory and research.