Bestseller
More than 55,000 in print!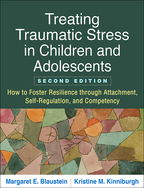 Create flyer
Treating Traumatic Stress in Children and Adolescents
Second Edition
How to Foster Resilience through Attachment, Self-Regulation, and Competency
Hardcover
Paperback
e-book
print + e-book
Hardcover
November 15, 2018
ISBN 9781462549061
Price: $112.00
528 Pages
Size: 8" x 10½"
order
Paperback
November 15, 2018
ISBN 9781462537044
Price: $52.00
528 Pages
Size: 8" x 10½"
order
Check out a special package offer including this title!
---
New to this edition:
Reflects the ongoing development of ARC, including important refinements to foundational strategies and treatment targets.
More than 30 additional handouts and worksheets; all reproducible tools are now downloadable.
Greater attention to caregiver skill development throughout.
Addresses ways ARC is being used in nontraditional settings (schools, day care, primary care practices) as well as diverse clinical contexts.